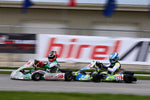 -273 Drivers Win Big at SKUSA SummerNats
This past weekend the biggest karting event of the Summer took place at New Castle Motorsports Park just outside Indianapolis, Indiana. With temperatures over 100 degrees driver's fitness would be tested.
Multiple drivers were wearing the new Zero Karting glove and found great success with five victories and multiple podiums. Both Ryan Norberg and Ryan Kinnear swept the weekend winning both of their finals while Kyle Kalish and Mario Barrios both won a final. Dante Yu and Austin Garrison both had podium finishes while Yu went into the points lead heading into the SuperNationals in Las Vegas.